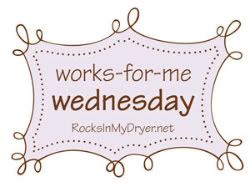 My little fellow (19 months) loves his bath. He has a lot of fun, but he splashes too hard. I have been working with him on not making big splashes. He has several toys to play with in the tub, but he would rather slap the surface of the water and send splashes everywhere. (I keep the water depth very low, but it seems that the splashes go a really long way when he is excited. This gets to be a problem, and the older kids have a fit when he splashes the roll of toilet paper!)
Here are the couple of things that have worked to help him. First, when we get in the tub, we touch the water very gently and say, "Soft, soft." He gets that. He will very gently slosh the water. Each time he lifts his arms to splash, I say, "Soft, soft." Still, the temptation is too great. He will sooner or later try and splash really hard.
One other thing is helping us. When I first put him in the tub, I wash him quickly, including his hair. Then the rest of the tub time is "his" time. I show him his toys and remind him that we touch the water "Soft, soft." He plays around for a while, then that urge to splash gets too strong. I try to catch him before he splashes and cue him not to splash, but when he does, he immediately gets pulled out of the tub. He does not appreciate that at all. I think he is getting it, though. He is getting longer bathtimes lately because he is able to hold off on the splashing for longer.