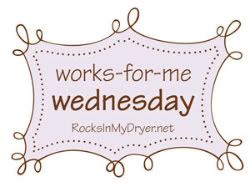 When my youngest got ready for table foods, it was tempting to get him the little jars of chunky toddler food. They didn't seem very cost effective, however, and the selection was pretty sparse, but the convenience would have come in handy many times, especially when traveling.
I discovered that he really liked the chunky canned soups they have at the store. They have so many different varieties with lots of veggies. There are some reduced-sodium varieties, to cut down on the salt.

Now that he wants to feed himself, I just drain off the broth, and the pieces are the perfect size for him to pick up. I keep these on hand for the times when the rest of us are eating something that he doesn't care for, or that I am not sure he can handle yet.
The other cool thing is that they taste great to the rest of us. There is very little waste, because someone is always willing to eat the leftovers.