His love has no limits, His grace has no measure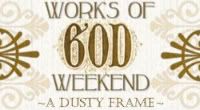 Last weekend was difficult. My dear mother-in-law is undergoing cancer treatment. Right now, she is getting chemo, radiation, and they are backing off another medication, because it was having bad effects.
We went to see her on Saturday. For the first time since I've known her, she was not a picture of grace, patience, and serenity. She was truly miserable. Job came to mind several times that day. She kept her husband and daughter on their toes. Though I tried to help, she didn't really want my help.
(I think that's because she is not used to me care-giving. I was able to coach them on some positioning strategies. As she is bed- and chair-bound, she is at risk for developing pressure ulcers, and that is my specialty, so maybe I was able to help in that way.)
I got to thinking, though. "Performance" has often been a part of the Christian life for her. Even though she is a Bible-believing Christian, and is close to the Lord, she gets hung-up on the concept of works and being good enough. My husband has often tried to encourage her from the Word, that since we can never be good enough, we need grace. And we receive grace. But the works philosophy has been ingrained since she was a child, so it is hard for her to let go of the concept. She feels she needs to do more and do better.
Now, sadly, she is not able to do more and do better. Instead of living out her Christian life, she has reached the end of any of her abilities. She is managing to just survive.
Today, the words to this song came back to me. I heard it a lot growing up. But it is real to me in a new way this week. Here are some of the words:
When we have exhausted our store of endurance
When our strength has failed, ere the day is half done
When we reach the end of our hoarded resources
Our Father's full giving has only begun.



His love has no limits, His grace has no measure,
His power no boundary known unto men;
For out of His infinite riches in Jesus
He giveth, and giveth, and giveth again.


From "He Giveth More Grace" by Annie Flint

As a believer in Christ, do you struggle with works vs. grace? Is is hard for you to trust that your salvation is really secure in Christ, without you adding in the good things that you do. When you fail, do you worry that God cannot forgive you now? The Word of God says He is able to keep you from falling, and to present you faultless before the presence of His glory, with exceeding joy. (Jude 24) He wrote your name on the palm of His hand. (Isa. 49:16) You are loved with an everlasting Love. (Jer. 31:3)

Praise the Lord!