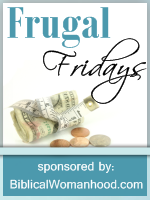 This dessert is very frugal and it is great if you are watching your calories. Oh! And most important, it is extremely delicious!
Lemon Graham Freeze

(this is out of Taste of Home Magazine, but my Grandma used to make something just exactly like it, so I feel like it's in the family!)
1 5 oz. can evaporated milk*
1/2 cup sugar
2 tablespoons lemon juice
Yellow food coloring (optional)
6 whole graham crackers
Put milk in a mixing bowl and go ahead and put the beaters in the bowl as well. Place bowl in freezer about 30 minutes, until ice crystals start to form on the sides. Take out and beat with an electric mixer on high. It should start to fluff up like whipped cream. Gradually add sugar, lemon juice, and a few drops of food coloring.
Place five graham crackers in an ungreased 11-in. x 7-in. x 2-in. dish. An 8x8 pan will also work, but you will have to break up the crackers to get them arranged properly. Pour milk mixture over crackers. Crush remaining graham cracker and sprinkle over top. Cover and freeze until firm.

* There is a way to make your own evaporated milk, and it works well for this recipe. Just reconstitute powdered milk according to the package directions, except use twice the amount of powder that it calls for. One 5 ounce can is approximately equal to 2/3 of a cup.



~~Edited 5/30 at 3:00 pm: Susan asked if you could use graham cracker crumbs. I think so, it might be a little messy. If you don't mind the extra fat, use butter and make a graham cracker crust. Once when I was "low-carbing," I made it with no crust at all. Then I just scooped it out with a spoon, and that was fine also.