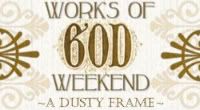 ...God is not absent, even when we are waiting. Just in the past few weeks, we have seen God at work.
This is my first time to post a "Works of God" post. I have meant to before, but since it is the weekend, other things always get in the way. So I'm writing this on Wednesday to post later, and that way it will get done.
This is a low time for my husband and I. His mother was recently diagnosed with an inoperable brain tumor. Currently she is back and forth between different doctors to find out if the brain tumor is a primary brain tumor, or something from another cancer that has spread to her brain.
So there is a lot of pain, and just the anxiety of waiting. Waiting to find out how bad things are. We already know that it is bad, because she is so weak.
But God is not absent, even when we are waiting. Just in the past few weeks, we have seen God at work. Here are two very personal ways He has ministered to me, and my mother-in-law.
When she was first diagnosed, we came to see them for the weekend. They live out of town, but only about an hour-and-a-half drive. Saturday afternoon, 17-month-old Bubby was needing a nap. My mother-in-law asked if she could rock him. I gave him to her, but I was not hopeful. He still nurses to sleep most of the time. His other method for getting to sleep is the kick-wiggle-thrash method. I just prayed, "Lord, please just let him go to sleep for her. This is very important." Bubby got still right away, and it took him about 60 seconds to drift off! She held him and rocked him for a long time, until she felt like he was getting sweaty and we decided to put him down on a pallet in the dark bedroom. What a simple, sweet answer to prayer. Praise the Lord!
The second answer to prayer was in a ministry that God revealed to me. My sister-in-law lives with them, but she her job requires four 10-hour days a week. She doesn't get home until around 6 pm. Since my mother-in-law is not strong anymore, it is too much for her to fix dinner for them. My sister-in-law is a great cook, but she has to come home after a long day, and start dinner, which might not be done until 7 o'clock or so.
So I was able to put together a few freezer meals. Cooking a frozen casserole is the easiest thing in the world, and I wanted it to be super-easy. But I was worried because my father-in-law is not a casserole guy. I did make some mini-meatloaves and soup that would cook quickly, but I chose some casseroles that did not have weird vegetables in them. They were created with much prayer that they would be a blessing to the family. Since then, I've gotten two phone calls from him, just saying how great the casseroles tasted. He still admits that he is not a casserole guy, but he said, "I'm learning a new way to eat, and it's pretty good!" Again, just a simple, sweet answer. Thank You, Lord!
Yes, I am still praying for a huge, enormous miracle. But I know that God is at work, even in the small things.