I got this great idea about three years ago, but I think some importer stole it. I don't know any importers, so I'm not sure when or how that happened. *grin*
My idea was this: Instead of carrying around a package of tissues in my purse, I use pretty little napkins instead. They are not as super-soft as a regular tissue, but I'm willing to compromise because they are so much sturdier.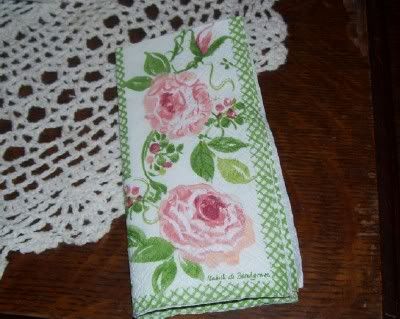 The little napkins are the cocktail napkin size. You can use birthday napkins, colored napkins, or pretty ones like they sell at Hallmark stores and such. They do not have to be expensive. I found mine at Ross. I think they were being clearanced because they no longer had the matching accessories or something like that. This little package was $1.69 for 20 napkins. Look how cute they are! They remind me of an old-fashioned hanky, but they do not need to be washed or ironed.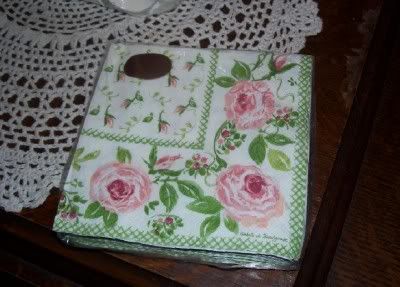 You can fold them once and put in your purse. It helps if you have a little pocket. Or you can fold them and put them in a little handmade case like this.
(To make the little case, I followed the instructions that start
here
.)
Now you can get little packages of decorated tissues at various stores, although they are hard to find around here. My idea could possibly be cheaper, depending in how you shop, and currently the selection of napkins is much broader than the selection of tissues.
Go
here
for more Works-For-Me tips!