For week nine, we did an extended field trip. Well, honestly it was a vacation with hubby's dad to Branson, MO., specifically Silver Dollar City.
There was a good deal of educational value to this trip, so I am putting it down as an extended field trip. Here are some of the educational highlights: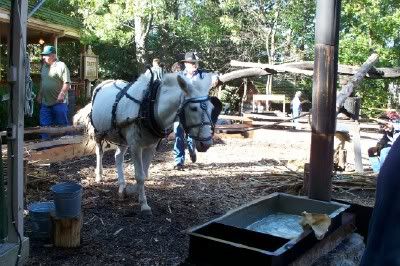 This is a old-fashioned sorghum mill, being powered by a mule, as you see. I failed to get a good picture of this, so I have to rely on my nice sister-in-law's picture. However, she is an animal lover, and got a better picture of the mule than the actual mill.
This was quite fascinating to me. The mule is guided around and around in a circle and turns the mill. A person stood there and fed stalks of sorghum through the mill, and the juice was drained into a bucket. The syrup is made similarly to maple syrup. The juice is boiled until it condenses down into a thick syrup. Samples of syrup were available. Apparently, syrup is an acquired taste, because everyone around was not lovin' the sorghum syrup. Including my daughter. Oh well, more sorghum for me, I guess. I grew up loving the stuff. It is similar to molasses, but it just has a nicer taste. I'm not sure how to describe it, but the taste is strong like molasses.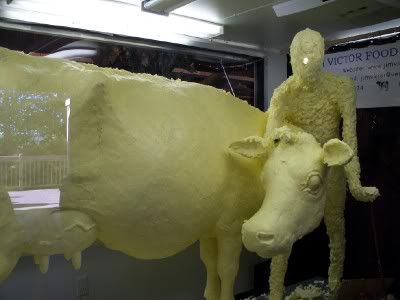 Here we have a butter sculpture. I have seen this phenomenon on TV, but never in person. It was in a large refrigerated trailer, and you could look in the glass window and watch the artist at work. Well, I do like to watch a work of art in progress, and this was definitely a work of art...but something about butter as a medium is surreal. Oh well, it is along the same lines as
pumpkin sculpture
, and we are
big fans
of that.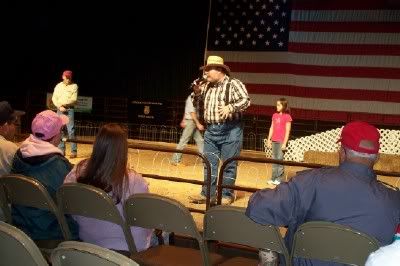 Here, Peanut (pink shirt) is getting to help with a demonstration of Border Collie training. This was another fascinating thing! Sorry I couldn't get a dog picture, too. I was being pestered by a bored one-year-old. Anyway, the trainer demonstrated how the dog is trained to go clockwise and counter-clockwise. That is the basis for all of her herding. She herded sheep, and then geese. They had the volunteers come up during geese herding.
We had a wonderful time. Learning opportunities abound, and those were some of the highlights for which I found pictures.