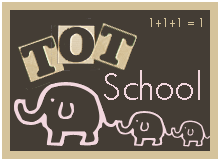 This is our first week to participate in Tot School at
1+1+1=1
. It is just a way to document the stuff we do with little Bubby in our day-to-day life that is focused on him. Bubby will be 23 months old in a few days.
This week we have just one picture. We played pots and pans this week. He had a great time. The activity came from the book,
Slow and Steady, Get Me Ready
. The goal was to have him put lids on the right size pans, and take them off again. He did that a few times, but he quickly learned that these pans make a lot of noise, especially when hit with plasitc hammer. It turned out to be a loud activity, but a lot of fun!