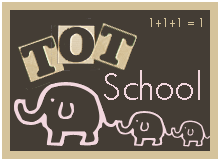 This past week we had a some fun as a family. We all went on a trip with my father-in-law to Branson, MO. This was a very special trip for us, and it went very well. My FIL really loves to go to Branson, specifically to Silver Dollar City.
Silver Dollar City has a lot of fun stuff for kids, and the older kids had a ball. For little Bubby, who is not quite two, it was interesting in other ways. He just happened to be tall enough to ride some of the kiddie rides, but he is too young still and he was nervous about them. So he sat out and found other things to occupy his time.
He did like riding the train with the whole group of us. He could sit snuggled up on Mama's lap and the train did not go too fast for him. I also let him sit in one of the nice "picture areas" and play in the mulch. It was damp and cool, and he had a good time. At home, he is happy playing in the dirt under the trees, so I guess this was close to that. I had to watch to make sure he didn't throw the mulch, but once he realized I wasn't going to let him throw, he had fun just picking it up and dropping it.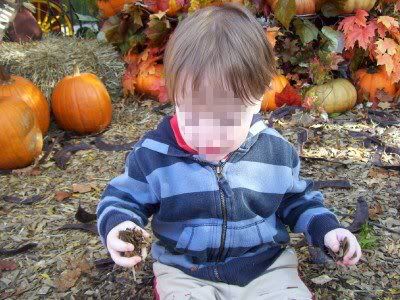 In the gift shop, they had one of those bins full of polished rocks. He absolutely loved that. I would highly recommend that to anyone next time they are at a museum or other souvenir shop. The rocks are cold and smooth and they usually have enough in a bin for a little kid to bury their hands in. He really liked all the colors as well.
Here are a couple of pictures from early in the week, when we hadn't started vacation yet. I took him to the library while the older kids were in band, and he had a good time. Our local library has a rather large children's area with a few play centers.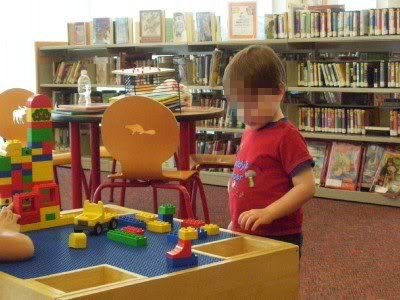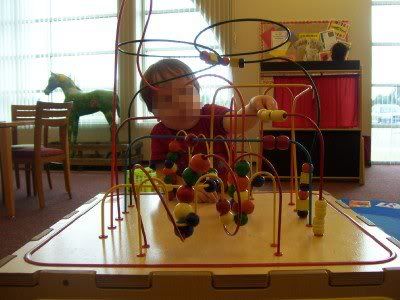 One last thing that is interesting, but you can't see it in the pictures: When he is really involved in something, his face just goes so serious. He looks very concerned, LOL. He is such a silly any other time, he is always smiling. I guess a lot of kids are like that, but it is interesting to me.
For more ideas, go visit
Tot School at 1+1+1=1
.