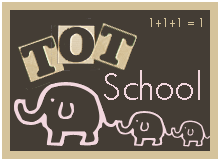 I sat Bubby on the piano bench the other day to see what would happen. He had fun. We talked about high and low, loud and soft, and he tried to sing high and low. When I brought out the camera, he was pretty much done. He just wanted to get his picture made. What a ham! But I did catch him in action just a bit: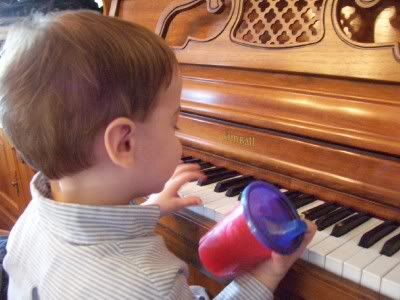 And yes, it was very necessary to hold that sippy cup the whole time.
He does spend some time at the piano whenever I want to play. He sits in my lap and bangs while I try to play from my Sheet Music Magazines. He is finally learning that Mama gets to turn the pages and he is not welcome to do that! Otherwise, he is welcome to help Mama play and if the melody line is not very distinct, that's probably my fault anyway.
He also helped me in the kitchen. The dinner-fixing time at our house continues to be the time of day when he is grouchy, not satisfied and gets restless. I put him up in his high chair and let him mash the avocado for mama. He was very glad to help with this. He used a potato masher, and he did a very good job. The avocado in the center of the bowl was perfectly pureed!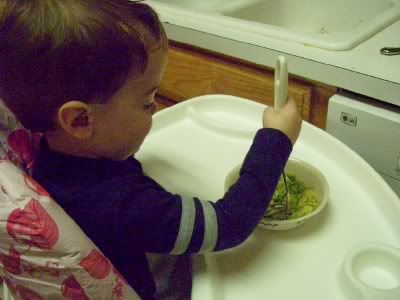 For more Tot School, visit
1+1+1=1
.