I have not been able to get onto Blogger all week. I tried a lot of things, but the thing that finally worked is uninstalling BSafeOnline from my computer. That program has been quite a hassle for us, does anyone have any suggestions for good blocking software for computers that children use from time to time? I like the format of BSafe, but it definitely uses a lot of resources, and slows our computer down.
We were on vacation last week, so that is why I didn't post my update for week 8. Here are the highlights:
Bible: Day-by-Day Kids' Bible - We have been in 2Kings, Isaiah, and Micah. We have memorized Joel 2:13, and ready to move on to something else.
History: We did a lesson on music in the colonies. We used
Popular Songs in American History
to listen to some midi files of folk music that would have come over from the British Isles. Then the
Bay Psalm Book
has text and midi files that would have been used in the Church in colonial days. Then, the kids learned a
simplified version
of the minuet. Here they are in all their anonymous glory!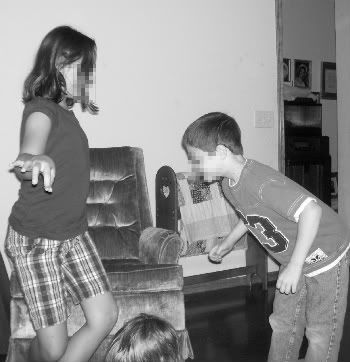 Reading: Peanut finished
The Boxcar Children
. She tried to begin another Boxcar Children book, called
The Pilgrim Village Mystery
. She didn't like it as well, I think it may be a more modern version of the books. Junior finished
Clara and the Bookwagon
, and we had trouble finding something appropriate to read after that. Most of our kid books are a little too hard for him still, and we are waiting on a couple of readers from the library that go along with our history period. We finally chose
The Kitten Who Thought He Was a Mouse
from our bookshelf.
For week 9, we did our field trip to Silver Dollar City in Branson, Mo. We'll share a few pictures soon.