We are taking about 8 weeks for our Colonial unit. The original unit study from Homeschool in the Woods took about 5 weeks. We are tagging on some extra weeks to read some extra material and do a couple of projects that didn't get done. We are taking break the first full week of October, so our break will be at the same time we switch units. Next we will do a unit on the Revolutionary War.
Bible Lessons - One of our lessons was the book of Jonah. Then we started the book of Hosea. We began memorizing Joel 2:13.
Rend your heart and not your garments. Return to the Lord your God, for He is gracious and compassionate, slow to anger and abounding in love, and He relents from sending calamity.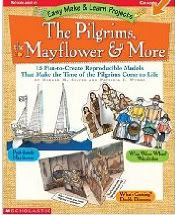 History: We read
The Story of the Pilgrims
by Katharine Ross, and made paper models of the Mayflower from
Easy Make & Learn Projects: The Pilgrims, the Mayflower & More
. The kids enjoyed this activity. The Mayflower model was not hard, and we are thinking about making some for Thanksgiving for table decorations. We will definitely save the two we did for that purpose.
The Story of the Pilgrims
would be a good book to use if you were doing a short Thanksgiving unit.
Language Arts: We used Bible verses for copywork. Peanut started on
Learning Language Arts through Literature, the Orange Book
(LLATL). It seems a bit easy for her, but maybe that is only the beginning of the book. I am not worried though. It seems to be a good book, and not a lot of repetition.
Read-aloud: We finished
The Matchlock Gun
. The kids turned out to really like the book, and the chapters were pretty short. The did not want to be left hanging, so we ended up reading a few chapters a day instead of just one. We finished sooner than I had planned, but that's okay. I read some reviews on Amazon.com which complained that this book was racist. Hmm. I don't really think it was. It was based on a true story about an Indian attack on a woman and two children. The little boy defended the family with a gun. It didn't say all Indians were savages, but these three obviously were.
The Warrior's Challenge
showed a very different type of Indian, not bent on killing others, and they were definitely shown as being mistreated. I think kids need some balance in these things, but
The Matchlock Gun
is too good to be missed.
Reading: Peanut began
The Boxcar Children
. It goes along with LLATL. At first she balked, she thought it would be boring, and we read it a long time ago as a read-aloud. After the first couple of chapters, she realized that it was her kind of book. She and her friends love to play that kind of pretend game, like they are having to survive and make things for their houses out of what they can find. So she will finish it early, most likely. Junior finished
Keep the Lights Burning, Abbie
and started on
Greg's Microscope
.
We also went on a trip to the State Fair this week. That was great!