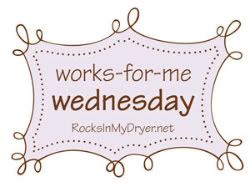 My dishwasher, which I have only had for three years, has broken down once again. This time it is out of warranty, and I think the repair bill would be huge. (By the way, it is an LG and has been a lemon all the way. Bad job, LG.)
We can get a new dishwasher, but I would have to dip into my little savings fund where I have been saving for a new dining room table. I'm actually considering not replacing this dishwasher.
Hubby says it would not be hard to fix up a couple of storage drawers in place of the dishwasher, but in a way that it could be easily removed if we decided to stick a dishwasher back in that space. And in my small kitchen, the extra storage would be an asset.
We have two able-bodied kids that could help share the load of handwashing dishes. They are nine and seven. There is also a two-year-old who is no help, of course.
So give me any input on what we should do. I sure hate to put my table off for another year! I also don't want to be constantly behind on dishes.