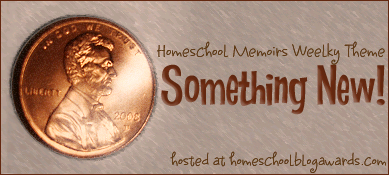 Todays memoirs topic is something new. "Share something new you are using, why you are using it, and how you like it.."
One new thing we are using is the Time Travelers Colonial Life unit study from
Homeschool in the Woods
. We decided to use it because we haven't done a lot of unit studies, and this year we've decided on a unit study approach. I look forward to preparing my own unit studies, but I wanted a pre-packaged study for our first big one. This unit study hasn't disappointed at all!

Of course, as with most curricula, there are too many activities to get it all done, but we have really enjoyed everything we have done with this study. My favorite thing is that the study builds in time to get projects done! That is a life-saver. We don't feel like we are always scrambling to catch up.
There are a couple of cons to the program. For one thing, there are text lessons each day to be read. I have been reading some of them to my kids, but often we skip them because they are a little dry, and we prefer a Charlotte Mason, living-books approach. The unit study does have recommended additional reading, but I have relied on some other book lists to get our good living books that we have used.
Now that our study is winding down, I think the copywork assignments could be changed a bit. They use "Rules of Civility." I will try to post later about that topic.
For more "Something New" posts, see
Homeschool Memoirs
at HSBA.