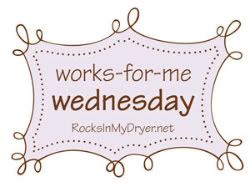 A couple of years ago, I did something in my preschool Sunday School class that helped little ones settle down for a few minutes for storytime. The idea is not mine, it came from a taped seminar from
Karyn Henley
.
When it is time for storytime, give a little child a small stuffed animal to hold onto. Ours were specific bears that only came out for storytime. This gave little hands something to do for the few minutes that they were required to sit still to hear a story. Young children really do need something to "do" instead of being required only to sit. We told them to keep the bears on their laps and help them listen to the story.
I found that this worked best for ages three and four. The two-year-olds did not quite understand what they were supposed to do, and the five-year-olds were a bit too old for it. They had more fun being silly with the bears.
If you have a little one that has trouble sitting quietly for a quick story, this might help you, too! For more ideas, go to Works For Me Wednesday.