I looked out in the backyard yesterday and noticed that my bell peppers were still growing. They looked pretty small, but I thought I'd better go check them out. I couldn't believe how big some of them were!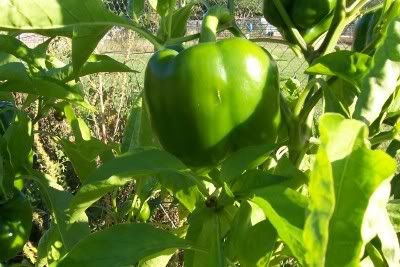 Some of them are really nice and big, and the undersides are flat, so I can even stuff them. I have never been able to stuff peppers out of my garden! They always taste fine, but they have pointy ends. They are also rather small, so I would have to stuff a whole bunch to make a meal. I think this kind of pepper needs some cool weather!
There are also some green tomatoes, I don't know if they have time to ripen before we have a frost, so I might bring them in anyway. But it is supposed to be above freezing at least one more week.
Peanut got us tickled the other day. She plays with the boy next door who is six years old. His dad sometimes will go out there and play football with them. Peanut is right in there playing with them. (She was always scared to play soccer with our former neighbors, but she likes good old American football.) One night I asked her if they played touch football or tackle football. She told me that they played both kinds. I guess I looked kind of surprised (or dismayed), because she put in really quick, "But I don't tackle hard...I just kind of grab their shoulder and let them down easy." Oh well good, Peanut. That wasn't what I was worried about, but I am glad you are not so rough on them!