I have spent the weekend getting ready for Junior's birthday party. He is going to have his first kid party this year with his friends, as well as a family party Saturday. We made some invitations for his party. The theme is "Go Bananas" and I just happened to find the perfect blank cards (yellow and brown) in a bargain pack at Michael's. I guess yellow and brown are not the hot colors right now! And the perfect stickers too. I printed the cards on the computer, very plain. Then I put these little stickers on them. They turned out too cute!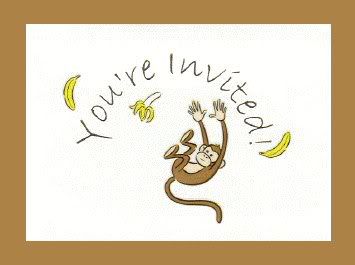 They don't have the brown border. I just put that on here because it doesn't look right without the border. But all the invitations were either light brown or yellow paper.
I made cake yesterday. He found the perfect cake pan at Michael's. It is a 3D car. He is the funniest thing. He grabbed the cake pan and started hugging it and jumping up and down. At home he had told me he either wanted a guitar or a car. Well, Grandma Mary has the guitar pan and she always offers for me to borrow any of her pans I want. So I was just going to ask her for the guitar pan and that would be it. But of course he saw this car pan and loved it so much, what else could I do? So he will have a 3D car cake. He'll probably want the guitar cake later on, but this year it will be a car.
And for his kid party, we got a bear face cake pan that you can make into a monkey. So he will have that. I was going to do cupcakes, but then I decided that the monkey cake would be almost as easy as making a bunch of cupcakes which the kids would just lick the icing off of anyway.
I made icing all day today. A lot of icing, chocolate and plain. I am tired. I am going to listen to
Swingin' Down the Lane
and
Riverwalk Jazz
. Then I'll watch my BritComs and go to bed!