Here is little Bubby's cake for his second birthday. He loves Thomas. I don't know if he has ever watched the entire show, but he loves the songs and dances to them. He always recognizes Thomas and gets excited if he sees pictures at the store, so I knew we needed a Thomas the Tank Engine cake.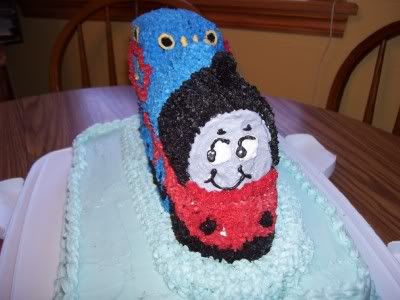 I used a 13 x 9 cake for the base, and the Wilton Choo Choo Train pan for Thomas. This train is not really meant to be Thomas, so I had to modify it a bit. I was happy with the way it turned out. I decorated the train separately, and it was on it's own cake board, which was larger than the base of the train. I covered the cake board up with stars, and it ended up looking nice, sort of like the train was up on a little platform.
If I was doing it over again, I would make the face first. I did it last on this cake, and it was much harder, because I was so afraid I was going to mess up the rest of the cake.