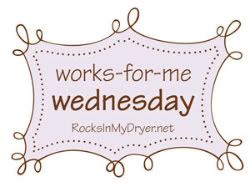 Last year, I used a site similar to this one for my daily Bible reading. My goal was to read through the Bible in one year, and I accomplished that goal!
I found it hard to make a habit. I wanted to do it first thing in the morning, but after I had my coffee so I would be a more active reader, and perhaps remember what I had read, rather than just go through the motions! So I made a quick folder of bookmarks that encompassed everything I like to do online each day. The list included my email, Google Reader, some blogs that I can't read through Google Reader, and a freebie site I like to check daily. I put the Bible reading link at the top and my rule was that I could not move on to the rest of the links until I had my Bible reading finished. This really worked for me.
For more tips, visit Rocks In My Dryer.